TEAM
ENGINEER
Message
01
Mechatronics Engineer
Mr・M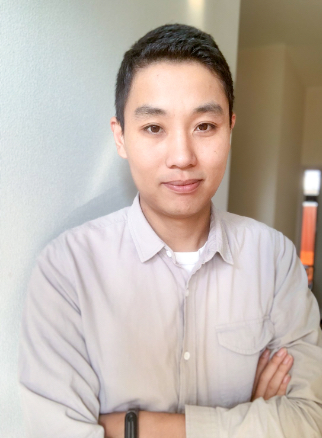 1. Current job description

Design and development of automotive LCDs in a company that designs, develops and manufactures LCDs responsible for I mainly work on derivative designs for automotive displays, GPS and instrument panel displays.
I'm mainly responsible for 3D design in Creo and drawing 2D plans and then I'm able to draw them according to the specifications. Create prototypes, testers, etc. to verify if they meet the specs of the specifications. We will check it and get it to mass production.
The current in-vehicle display has a 3-in-1 arrangement of the navigation system, meter and mirror. You have to be able to see clearly from all angles of the driver's seat.
It's a struggle, but I find it very rewarding.
2. Why did you join nms engineering?

I'm from China. I have been interested in Japanese anime and history since I was a child, but I never thought I would be able to I never thought I would be working in Japan. In my second year of university, I found out that there was a course where I could learn Japanese and work in Japan.
The university was also studying automotive engineering and control, and I knew that the Japanese automotive manufacturing technology was excellent, so I decided to go to Japan. I wanted to learn about Japanese technology, so I signed up for the course.
The company that ran the course was called nms Engineering.
As a result of my hard work and dedication to learning Japanese, I am now working in Japan.
3. Things I would like to try in the future

One of the tasks for the last couple of years is to create a curved surface instrument panel in the design of the LCD instrument panel.
My goal is to provide my own input into the design of the instrument panel. Designing Instrument Panels That Will Become a Global Trend I would like to do this.
In addition to mechanical design, I would also like to work on the control of the instrument panel, eventually.
My "dream" is that in the future, my designs will become a global standard.
Personally, I like cars, but I also like motorcycles, so I would like to go touring on a large motorcycle. I think. Actually, I don't even have a license yet.
4. The appeal of nms engineering

The first is that it has shown me a path to work in Japan.
It's been four and a half years since I came to Japan, but when I came to Japan with only a dream of working in Japan They patiently instructed me on Japanese customs and history, information necessary for business, differences in etiquette, etc.
Secondly, even today, the sales people are still taking care of me in a friendly manner. Work is confidential. I can't talk about it in detail because there are some things I can't talk about, but for example, I just moved the other day, and from the arrangements to the move They took care of me with great attention to detail. We are thankful for those of us who work in a foreign country.
Message
02
System development engineer
Mis. K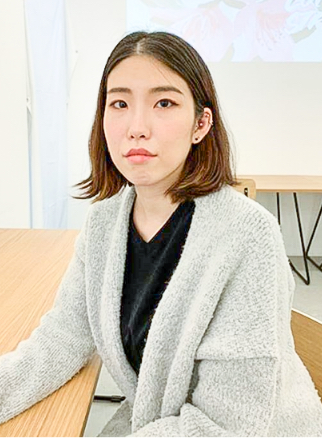 1. Current job description

I am responsible for building an internal system for a mobile carrier company in Sier.
I perform a series of development processes, including detailed design, programming, testing, evaluation, and debugging after receiving the specifications.
Control programs are essential to our convenient lives. I am fully aware of how rewarding it is to think that the systems we build support our convenient lives.
2. Reason for joining the company and career

I joined the company in mid-career, but I also worked in systems development at a previous job. The job of building systems is It's common for work to be overwhelming because of projects and tight deadlines. I was dissatisfied with my salary as compensation for my work and was considering a career change. Then I was introduced to nms engineering by a friend. What kind of work do you do when you meet with a salesperson? Can I make a career out of it? How are you treated? What about benefits? I decided to work for this company after discussing such things as Now I'm working with a team of about 10 people on system development, from upstream processes to manufacturing and testing, with the goal of improving my skills.
3. What you want to challenge in the future

In system development, there are two types of processes: upstream design, which involves creating specifications, and downstream processes, which involve detailed design, manufacturing and testing.
I am currently involved in all the processes from upstream to downstream, but I would like to expand my programming language skills because I believe coding is more suited to me.
I would like to expand the scope of my coding by using not only Java, but also other languages such as C, C++, Python and C#, which range from basic to highly oriented languages.
4. This is what I like about nms engineering.

I'm a mid-career newcomer, but before I joined the company, the company compared me to my previous job and explained in detail the projects I would be responsible for, so I could visualize my career.
I think this is very reassuring for the workers. In addition, I was told that the story is different before I started working and in reality. There are always things that happen, but for me, there was no gap. In that sense, I think my job change was a good one. I have no worries.
In addition, I was able to talk directly to the salesperson about what was bothering me and what was troubling me. You can concentrate on your work without worrying about what you're doing.
Message
03
Electronics Engineer
Mr・Y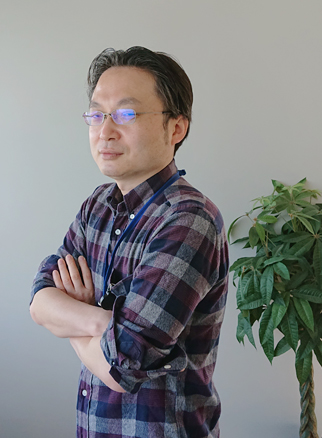 1. Job Description

I am responsible for the design evaluation of image sensors. After the circuit design, we evaluate whether the prototype semiconductor operates according to the specifications by checking the display status of the object and the waveform using an oscilloscope, etc. using our own evaluation system. The evaluation of Prototype 1 takes about three months.
I am currently in charge of leading the evaluation team, planning the evaluation schedule, coordinating with other departments, managing the process, sharing information on the internal progress Mtg, and providing feedback to the following development types. I have been doing this work for nearly 10 years now, and the number of image sensors I have evaluated and distributed has reached about 30 types. Currently, they are mainly installed in smart phones. In my work, I have to keep in mind the importance of being honest and straightforward. If we don't evaluate our products with sincerity, defects will occur in the market, which will cause trouble for our customers and lead to loss of trust. In this sense, I am proud of the fact that we are guaranteeing Japanese quality. When a defect is found in the evaluation, we try to figure out the cause of the defect and feed it back to the design, so that it can be applied to the next type of design. Quality improvement is an important part of our work.
Also, there are no textbooks because we work with the world's top-share, cutting-edge technology. It's a job that we are constantly developing ourselves. The path we have taken becomes a path and a model for the engineers who follow it, which makes my job very rewarding. 
2. Why did you get into nms?

More than ten years ago, I was working as a dispatched worker at a semiconductor manufacturing plant, designing individual image sensors at that time.
At that time, I think it was about 7 million pixels. When I was working on the evaluation and analysis of the display of Galapagos cell phones, I was invited by a sales person to join the job of semiconductor evaluation.To be honest, I didn't really understand what nms engineering was about at the time, but I decided to change my job because of the opportunity to be involved in semiconductors. I thought it would be a challenge, but since then I have been working at the forefront of the world for more than ten years.
People can come to a crossroads in their lives. I think it is important to decide what the pillars of your life will be at that time. In my case, it was a chance encounter with a salesman that led me to my lifelong career.
Naturally, I have been working at nms engineering for more than 10 years, which means that the company has been in existence for more than 10 years. I have heard that a company surviving for 30 years is a big deal. I think we are able to do our job with peace of mind because the company is strong.
3. What do you want to try in the future

What I want to do is to teach the know-how of the semiconductor evaluation business to the next generation. What we are doing is creating a roadmap. Semiconductors are becoming finer and smarter every day. And the evaluation methods must keep moving forward.
To move forward, the basics are important. Teaching those basics to the next generation. That's what I want to do.
Because we are dispatched, there are dispatchers from other companies, and there are also employees of our clients. My dream is to work while teaching these young people.
In my personal life, I have a child in kindergarten, and I would like to live a peaceful life while watching him grow up. Because the workplace is a constant struggle.
4. What is the appeal of nms engineering?

I like the non-consensual attitude. If I have a problem, I talk to the sales people, but otherwise they don't interfere with me, so I can concentrate on my work.
I heard that other temp agencies sometimes force you to participate in a "study session", but I don't think the "study session" is so meaningful because the work of engineers is different for each one of us.
I would rather have a moderate sense of distance that allows me to do what I need to do when I need it.
Message
04
Production Technology Engineer
Mr・L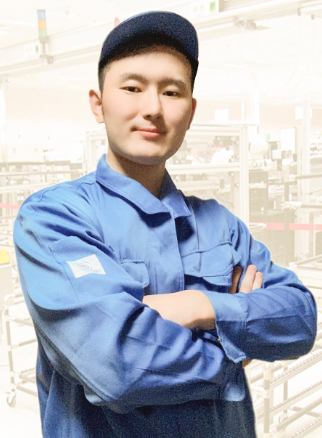 1. Job Description

I work in production engineering for a company that designs, develops and manufactures automotive safety equipment.
My main task is to start up, verify, and implement improvements to manufacturing line equipment.
I install outsourced manufacturing equipment on the line (this is called secondary construction), ensure power supply, and Practical verification of the drive system, mechanism, noise, sensors, etc. I'm from a mechanical background, but my work requires knowledge of mechanics, electricity and software.
Although I am from a mechanical background, my work requires knowledge of machinery, electricity and software, and I am still learning every day.
Nowadays, various things are outsourced, but this company is promoting self-manufacturing, so it's good for me to improve my skills. I believe that they are connected.
2. Why did you join nms engineering?

My home country is South Korea. The reason why I decided to work abroad is because the unemployment rate for young people in Korea is high and I decided that I could not find a good job in Korea. Find job as in the U.S. and Europe, but I decided to work in Japan because Japan which is at the top of the world in terms of culture and technology, was right next door. The first time I met nms engineering was at a job fair. I chose nms engineering from among the many Japanese companies because it seemed to introduce me to a place where I could demonstrate my skills. I felt that they would introduce me to a place where I could use my skills and make the most of my performance as a mechanical engineer.
3. What you want to challenge in the future

Although my specialty is machinery, my work requires knowledge of electricity and software. So-called mechatronics technology is required. In the past year and a half, I have managed to understand a little bit of electricity. From now on, I would like to study software.
This is the era of equipment control, and I believe the need for it will increase as AI and IoT advances. I also want to become more and more proficient at drawing and design, as I sometimes have to remodel equipment on the job.
4. What is the appeal of nms engineering?

I think the appeal of nms engineering is that employees are assigned to places where they can develop their skills. For me, it's a gateway to success. The technical dispatch service is a way for me to get to know the skills of my employees.
I think this is a place where I can challenge various things to improve my skills as well as serve the clients.
The sales staff is always available to help me when I need it, and as a foreigner, I often ask for immigration forms, and I'm very grateful that the company responds to my requests in a professional manner.
SALES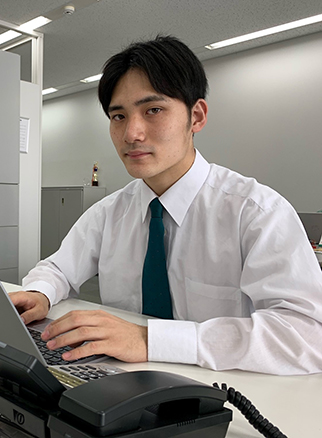 1. Work Descriptions

I am in charge of consulting sales and engineer recruitment for manufacturers and technology companies in the manufacturing industry. On the sales side, I assign engineers to work in a comfortable environment where they can grow and make proposals to solve their clients' problems.
Being in charge of technical staffing requires a good understanding of technical terms. Coming from a humanities background, it's a bit of a burden for me, but if I don't understand them, I can't do my job.
Also, in following up with engineers, I can't give competent advice unless I understand the Dispatch Act and labor-related laws and regulations, so I'm learning every day.
2. Why did you join nms engineering?

I joined the company in mid-career, but I had been working in sales in the same industry before. When I was changing jobs, I wanted to work in a place where I could "make use of my experience" and "contribute to society". I applied for a job on a job search website and had an interview, and I could see that I could visualize my career plan, that I could make use of my experience, and that I was needed, so I decided to work for the company that was restarted in January 2020.
I want to put myself in an environment where I can grow further as a salesperson and a human being, and I want to play a role in "solving customers' problems," "improving the skills of engineers," and "growing nms engineering.
3. What do you want to try in the future

I would like to expand our organization and make more engineering colleagues. With a view to expanding the contracting business, I will conduct sales activities under the motto of "problem solving that meets the needs of the client" and "helping the client realize results as part of their growth strategy. Personally, I would like to be in a management position within three years.
4. What is so attractive about nms engineering?

I get to be involved in the entire process of hiring engineers, from recruitment to sales and administration, and I get to learn about all technical areas from software to hardware, as well as industry knowledge. I am able to understand the experience and skills of the engineers, so I can learn about the process of developing products, systems and systems.
The solid management foundation of our parent company, Nippon Manufacturing Service, is also very attractive. The company's culture is positive about the challenges of new fields and areas, and its strategy of being ahead of the times is also very attractive.